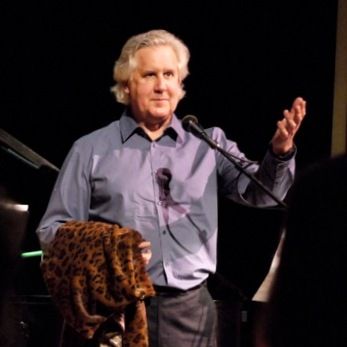 David Hahn
DAVID HAHN is a composer, performer, and music director of the acclaimed ensemble, Concert Imaginaire. Many of his diverse works have been commissioned and performed by professional ensembles and soloists including: Concerto Alla Barocco commissioned by the Minneapolis Guitar Quartet who performed it with the St. Paul Chamber Orchestra, Four Short Pieces performed in Carnegie Hall by guitarist Cem Duruöz, Concerto Anatolia premiered by the Antalya State Orchestra, Turkey, De Omnibus Apostolis performed by the University of Washington Singers, W Is For Weasel premiered by the Shank-Hagedorn Duo, and Kindergarten Word Ring for octaphonic speaker system, performed at the Spectrum Press Electronic Music Odyssey Concert Series in Los Angeles. Mr. Hahn has also collaborated with artists in film, theater, spoken word, and other media, such as in Zagreb Everywhere, an unorthodox experimental video, which was shown at the Rencontres Internationales Festival in Paris and Berlin.
Educated at Brown University, the New England Conservatory of Music, and the Guildhall School of Music and Drama in London, Mr. Hahn received a doctorate in musicology at Stanford University in 1993. He began his music career as a performer on lute, guitar, and mandolin with such groups as the Boston Symphony Orchestra, the San Francisco Symphony and Opera Orchestras, Boston Musica Viva, the Seattle Symphony, Musica Nel Chiostro in Florence, and the City of London Festival. He served on the faculty at the New England Conservatory where he co-founded the award-winning Boston Renaissance Ensemble which toured extensively in the US and Europe.
Awards And Fellowships: Jack Straw Grant for Artists' Projects (2014), Artists Project Award from the Seattle Mayor's Office for the Arts and Cultural Affairs (2009), ArtLink Collaborative Grant from the National Endowment for the Arts and the Soros Foundation (2005), 1st Prize: Classical Mandolin Society of America Composition Contest (2004), Composer Assistance Grant from the American Music Center (2003), Meet The Composer Grant (2003), Puffin Foundation Grant (2002), GAP Grant from Artists Trust (2002), Graduate Fellowship from the Stanford Humanities Center (1991), Graduate Fellowship from the Stanford University Music Department (1989), Noah Greenberg Award from the American Musicological Society (1982).